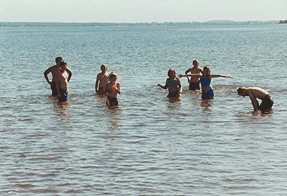 Letter from: Rosemary
"Hi Ron and Bonnie,
Just wanted you to have my officical "thanks".
My first impression of your cabin upon walking in was a BIG WOW! How nice - music, fresh flowers, anything and everything a person could ask for.
I really enjoyed our boat ride and history tour - Ron could certainly be a tour guide.
I will continue to tell everyone I can what a wonderful place you have there. It is truly a home away from home.
Once again, many thanks as it was a special time for me and I'll never forget your kindness.
Keep up the good work."

Letter from: Gail, Dawn, Yvonne, and Amber
"Ron & Bonnie,
We "truly enjoyed" our time here - everything was wonderful. We would like to have this same place, same time for next year.
We will be good walking and talking advertisements for you and Shawano Toursim. I really enjoyed the ride to the island and history on it.
Thanks once more and we all look forward to seeing you next year.

Email from: Tom, Dianne, and Lou

"Bonnie and Ron,
Had a nice time and enjoyed your cottage very much. Will try to make it back next, or the following year.
I take many bird pictures here along the Mississippi River. Have some nice ones of Blue Herons (saw one by your docks each morning). I will send you one of my 8 x10 prints in the near future."





Mark & Rachel
Wautoma, WI


"I can't tell you how many cards I wrote out about our wonderful time at the cottage! Hoping to come this winter, but of course we are so busy with the boys with bowling and basketball! You have a beautiful place and we are so blessed to spend our vacation with you!"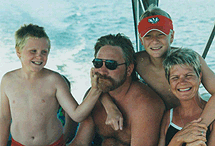 Dear Ron and Bonnie:

I received your letter and invoice by mail yesterday.

We were there until 1:00 pm or so waiting to see if we could bid a personal good bye to you and thank you for all the hospitality.

My parents have profound memories of the time we spent there and are very impressed with your kindheartedness of lending the jackets, and letting the children use the play swings and everything. Needless to say, we do share their opinion. My friends also liked the break as it was their first vacation after their second baby and really thank us for insisting to accompany us. Well, the real credit goes to you for giving them a getaway that they really needed!

We'll certainly take your offer to visit the cabin whenever time and finances are right so that we can spend more time there.

Kind regards,

Shantanoo

Hey Folks-

Very nice home - comfortable & convenient!

Everything worked well - Thanks again

Lois
12-29-03

Hi Ron!
We want to say we very much enjoyed our week stay in the Marina House on Shawano Lake.
The accommodations are spacious and comfortable!
We had terrific luck panfishing - especially in the bay next to the marina! (Spinners with medium sized worms worked best for us)
Thank you again for use of your beautiful property!.
Sincerely,
Bob & Cheryl
Ralph & Cari

Ron,
We all had a wonderful week on the lake. The Plumber's Hilton was just fantastic!
Looking forward to next year already!
Sincerely,
Kathy & Michael

Dear Owners,
We really enjoyed our stay at Bamboo Shores and the Shawano Area. We found the cottage very clean and very accommodating, just like home!
We ate at several restaurants in the area and used the free bike rental coupon. Everyone we met was friendly and more than helpful.
We look forward to visiting in the area again.
Sincerely,
Cathy